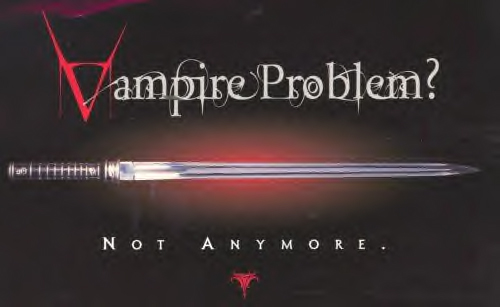 The wait is over! From the smash hit Blade starring Wesley Snipes comes the officially licensed reproduction of "The Sword of the Day Walker". This is a 1:1 exact reproduction of an actual studio sword supplied by prop maker Tony Swatton. The sword features full tang construction, a 420 stainless steel blade, and a metal handle that is powder coated in silver and black. This sword is one of the most authentic motion picture reproduction swords ever produced. A black lacquered reproduction of the stand featured in the movie is also included. This is our #1 seller!!!!
Pricing
| Description | Item # | Price |
| --- | --- | --- |
| SWORD OF THE DAY WALKER (BLADE) | K-1991 | $160.95 |
PLEASE E-Mail Me For Payment Methods. CLICK HERE
We will Have The online shopping cart system up in a couple

Please Support My Sponsors Down There, So We May Keep this Page up!! Thanks!
Search For Anything!!!!! In The Google Search Box, Find 1000's of Links to Your Search!!
Please Search A Few Things 1-3 searches, Thank you. Your Participation is appreciated!